Professional Cookery Students Start their Career in the Kitchen
Students in Islay have been cooking up a storm in the kitchen having recently completed their NC Professional Cookery course.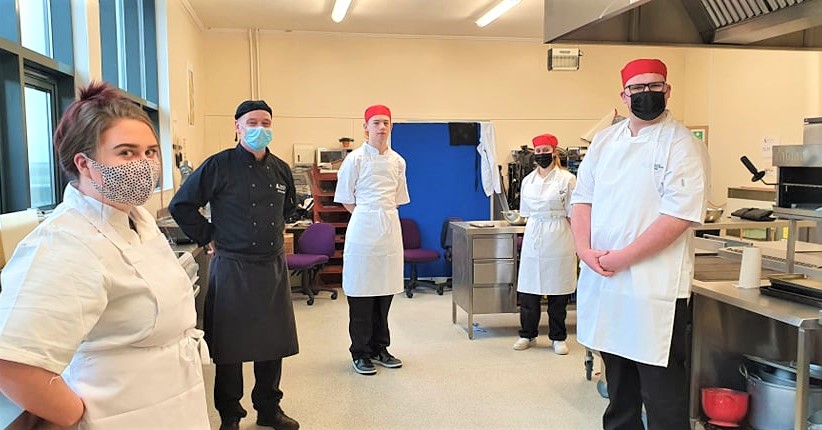 The course, delivered by Argyll College UHI is aimed at both students just leaving school, interested in cookery as a career, or those who wish to move into the hospitality industry as a change of vocation.
A highly practical course, it teaches students the fundamental skills required to prepare an array of dishes and baked goods through a mix of demonstrations and hands-on experience in the college kitchen. They also learn basic kitchen knowledge, health and safety and customer care – all essential to be successful in the industry.
Students Christopher, Chloe and Jack recently completed the Level 5 course and are looking forward to pursuing their passion for professional cookery in the not-too-distant future.
Having already studied the NC Travel and Tourism course and meeting some of the professional cookery students and lecturers, Jack became interested in a career in the kitchen. Perhaps not quite what he imagined, the pandemic took its toll on his learning. "Studying at home during lockdown was very different and took some adapting to. It was hard at first, but I eased into it very well with the help and patience of the lecturer." Despite studying digitally for the majority of the year, Jack says "I would definitely recommend this course for anyone wanting to get into cookery, or just do it as a life skill."
Similarly, not wanting to let the pandemic put her passion on hold Chloe too began the course. "For me this was a great opportunity to study at home and gain qualifications as I do not have any plans to leave at the moment."
For Chloe, the face-to-face teaching was by far the most valuable. "The best part of the course for me has been the practical cookery side. Although I have cooked before, this was a new experience as it focused on more independent working, creating, and producing a finished meal."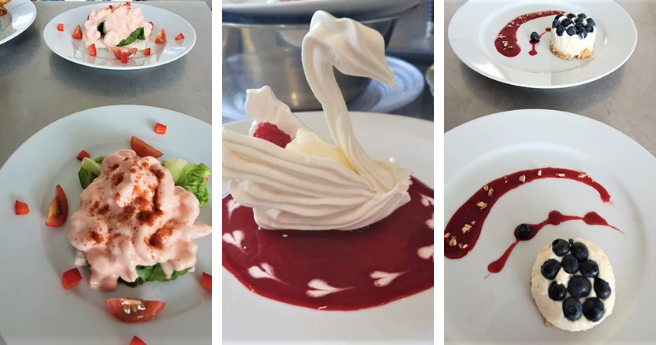 Both Chloe and Jack plan to progress on to the Level 6 course this Autumn with Jack already working in the industry, having secured employment in a local café and primary school kitchen.
Classmate Chris has reaped the benefits of the course along with his fellow students, achieving his REHIS Food Hygiene and Allergens certificates, helping him to secure a kitchen role at a local hotel. Speaking of his experience, he says "the course was far better than I expected. It was a lot of fun, and I really enjoyed the practical cooking side of it. The lecturer was incredibly helpful the whole way through the course, talking me through everything I did not understand. I would wholeheartedly recommend it to anyone interested in cooking."
Study in the catering and hospitality industy opens doors for students and allows them the option to progress through a number of different career paths. Keira, who recently completed the HNC Hospitality qualification found herself developing an interest in event planning during the course and has now been accepted to progress to the BA Events Management course. When asked about her experience, she says "The HNC Hospitality course has set me up for my next year of college, giving me a head start going forward. The course was very enjoyable and I would recommend it to anyone."
If you're considering a career in cookery, take a look at the catering and hospitality courses available.