John Frace inducted into the Hall of Fame at Virtual College Expo22
John Frace has become the tenth inductee of the College Development Network Hall of Fame. The College Hall of Fame highlights and recognises the outstanding contribution that college graduates and staff make to society and the economy; and demonstrates the variety of pathways to success from college.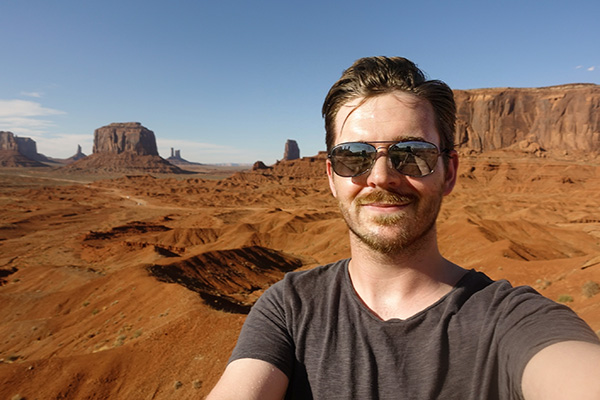 In 2016 John completed an HND in Administration and IT with UHI Argyll, which led to the securement of a Business Administration Modern Apprenticeship within Argyll & Bute Council.
In 2018 he returned to UHI Argyll to complete an HNC in Digital Design and Web Development, and then a BA (Hons) in Business and Management with Marketing.
During this time he set up the 'Travelling Tabby' website; a travel blog turned Covid-19 statistical tracker that gathered national media coverage and acclaim over the course of the pandemic.
John said:
"College has been a huge part of my life now. I've been studying with Argyll college for about four years and it's been great, really. It's a smaller college, but I've actually really enjoyed that aspect of it. Technology is utilized really well in the courses and I love the closer connections you can have with the tutors on the course. Plus, location wise, it really can't be beat.
"There are so many soft skills you pick up in college, which I wouldn't be able to make the website without; problem-solving skills, critical thinking skills, written-communication, research skills. There's so many really. I wouldn't have been in a position to create the website if I hadn't gone to college"
Martin Jones, Principal of UHI Argyll, said, 'John is a deserving candidate for the CDN Hall of Fame. He has worked tirelessly in his spare time for over 2 years to build and manage the Scottish Coronavirus Tracker which has been so useful to so many professionals. John will graduate this year and we will watch his future career with interest, I know he will achieve great things.''