Graduation and Celebration of Success 2023
Sixty graduating students and their guests from across Argyll & Bute, and Arran gathered in the spectacular setting of the Queen's Hall, Dunoon, last Friday 22nd September, for UHI Argyll's annual Graduation and Celebration of Success.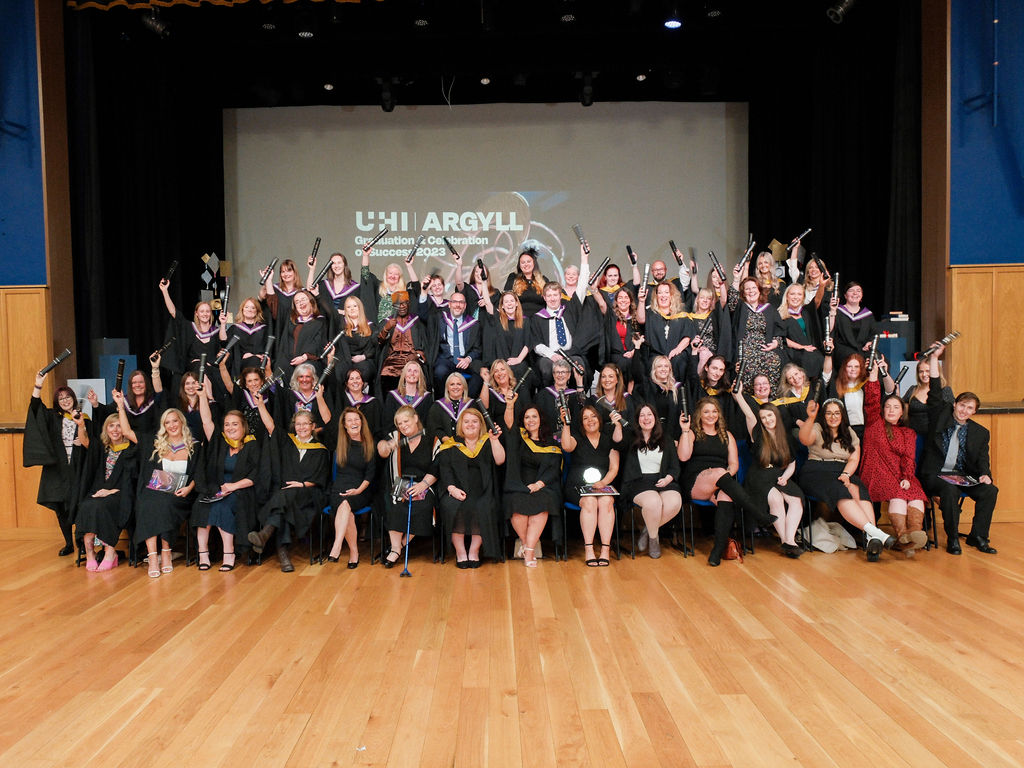 The ceremony recognised the achievements of both Further Education and Higher Education students, who have successfully completed their course with UHI Argyll in the past academic year.
Guest Speakers
A highlight of the day was hearing from guest speakers, Cal Hunter and Claire Segeren, or who some may know as the 'Accidental Renovators'.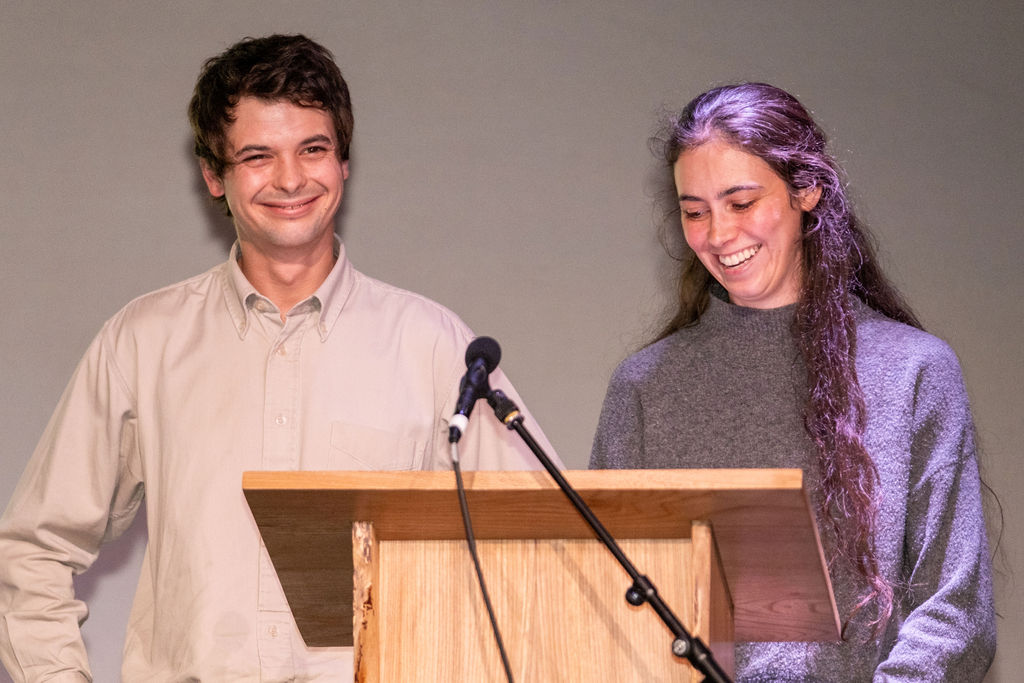 The young couple told the fascinating story of how they mistakenly bought Jameswood Villa, a derelict stone building from 1900, located in Sandbank, Dunoon. With several structural issues, including rotten beams, insufficient drainage, and subsidence, the councillors and locals advised them to knock it down and start over. But with optimism, a lot of hard work and sheer determination, they took on the enormous project.
The story resonated with many UHI Argyll students, who will undoubtably face unexpected challenges, as they start this next chapter of their lives.
Student of the Year Awards
Guest speakers Cal and Claire also made the presentations to the winners of UHI Argyll's Student of the Year Awards.
School's Link Student of the Year
Tarbert Academy student, Ella MacNab was named at the 2023 Regional Schools Link Student of the Year.
With a passion to pursue a career in nursing, Ella undertook the Health Sector Schools Link course with UHI Argyll to help prepare her for university. Her mature, caring, and considerate nature shone throughout the course and lecturer Linda Brown – a former nurse herself, has praised Ella for the positive influence she will have on the future of nursing. Unfortunately, due to her university timetable Ella was unable to collect her award on the day.
Further Education Student of the Year
Rothesay student, Alishia Hendry, was presented with the award for Further Education Student of the Year.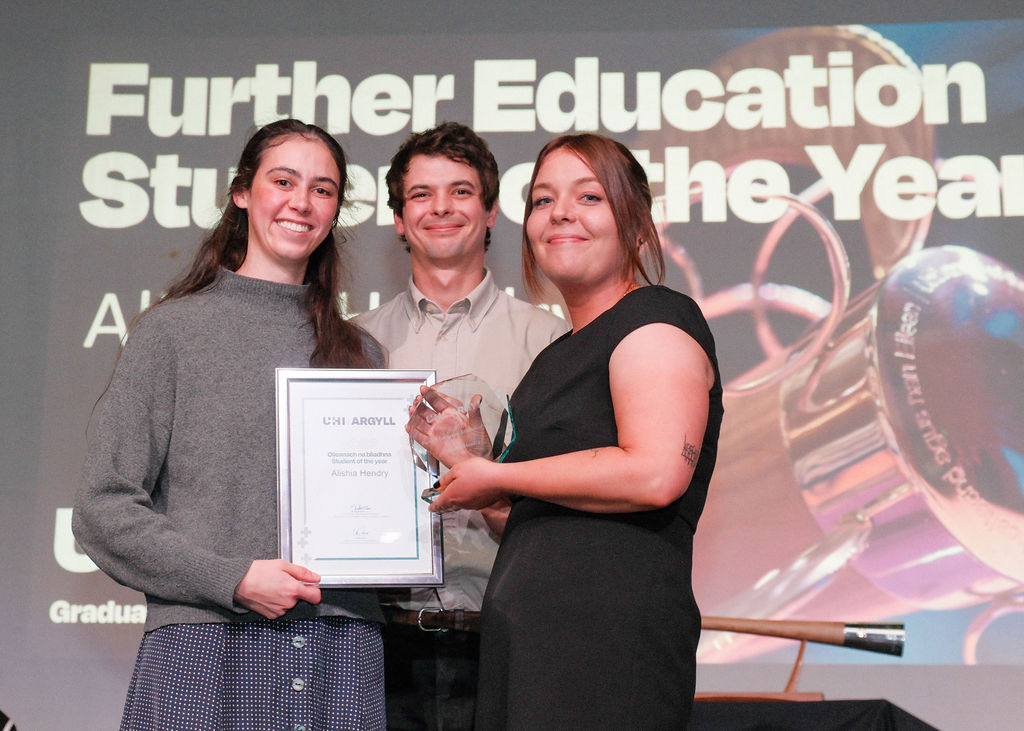 Alishia was nominated not once, but twice, by both the Rothesay Assistant Centre Manager, Sheena Finlay, and Centre Administrator, Laura Beattie, in recognition for her hard work, determination and positive attitude.
This September will see Alishia enter her third year of study with UHI Argyll, having initially started with an introductory course, progressed to the NC Early Education & Childcare course in 2022, and now this year, she has her sights set on the Childhood Practice HNC.
In addition to the challenges many students have faced over the past few years, Alishia also has a demanding home life as a single parent with a daughter who has additional support needs. Despite all of this, she always walks through the door with a smile on her face and is a great support to her fellow classmates.
Higher Education Student of the Year
The final award was for Higher Education Student of the Year, which was presented to Lochgilphead student, Jamie Divers.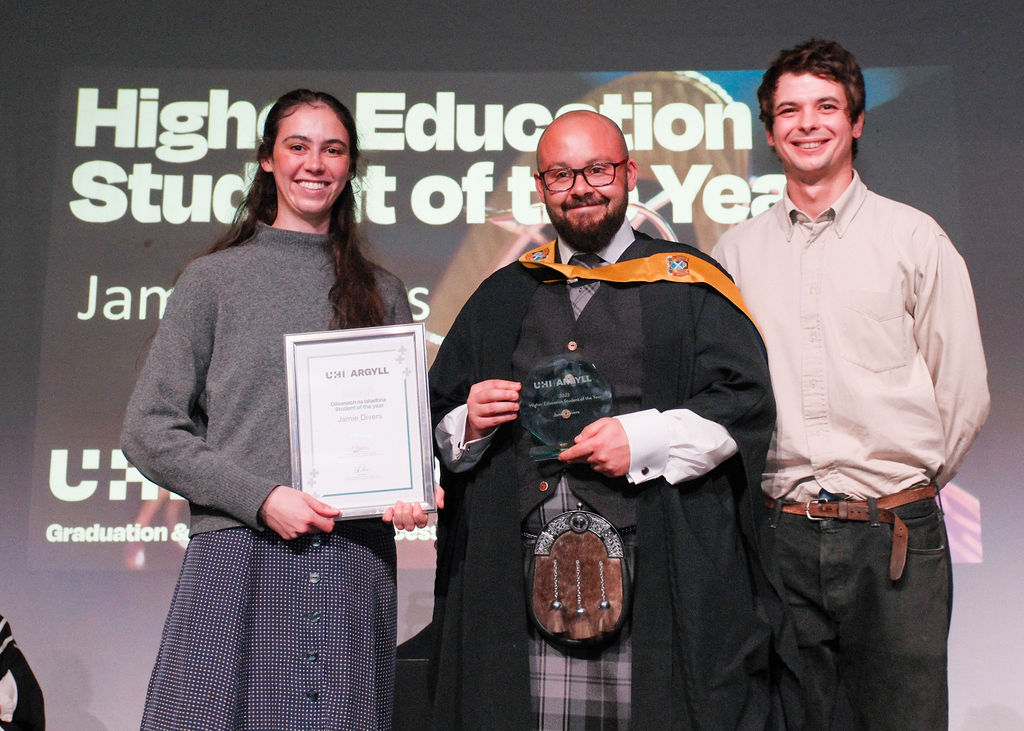 Having first enrolled with UHI Argyll in 2021 as a Further Education student, studying on the Computing with Digital Media NC, Jamie has worked exceptionally hard to develop his skills and knowledge within the subject area. Last year, he advanced to the HNC Computing course, but within a matter of weeks, felt it wasn't quite right. He made the switch to the HNC Digital Design and Web Development course and hasn't looked back since.
Despite having to play catch-up to his fellow classmates due to switching programs, Jamie's attitude to learning was superb. He was a valued member of the course who brought a positive dynamic and mindset to all interactions; constantly asking questions, seeking out new ways of doing things, and viewing criticism as an opportunity to further develop.  
If you would like to find out more about the wide range of opportunities available through UHI Argyll visit our subjects page.