Campbeltown Students Get First-Hand View of Runway Refurbishment Project
Engineering students from Campbeltown Grammar School recently visited the refurbishment project at Highlands and Island Airport Limited's (HIAL) Campbeltown Airport for a behind the scenes look at the aviation sector.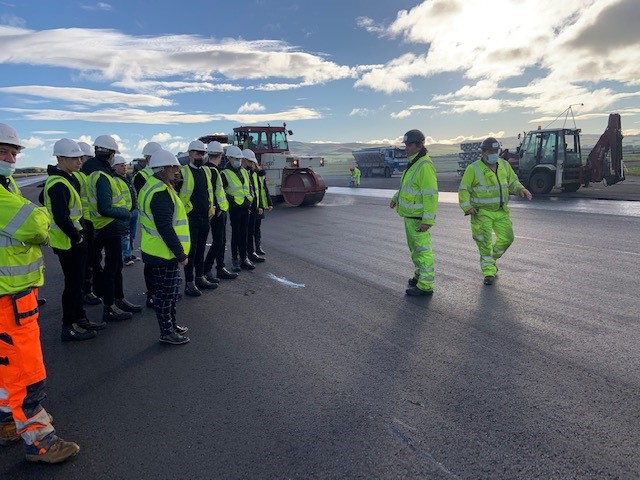 The students, aged 15-16 years old, are studying Skills for Work Engineering at National 4 and National 5 through Argyll College UHI. As part of their course, Lagan Aviation & Infrastructure, the company responsible for delivering the project, visited the pupils in school before inviting them out to the airport to tour the working site.
Brandi Davey, Project Manager at Lagan Aviation & Infrastructure spoke to the students in school, providing a thought-provoking presentation on her career to date within the civil engineering industry. Having worked on major projects at airports such as London Gatwick, Manchester and Birmingham, Brandi's career has also seen her travel the world, undertaking work in Dublin and even as far afield as the Falkland Islands and New Zealand. Hearing of Brandi's endeavours, the students gained invaluable insight into the different aspects of engineering and construction and the possible future career paths available in the industry.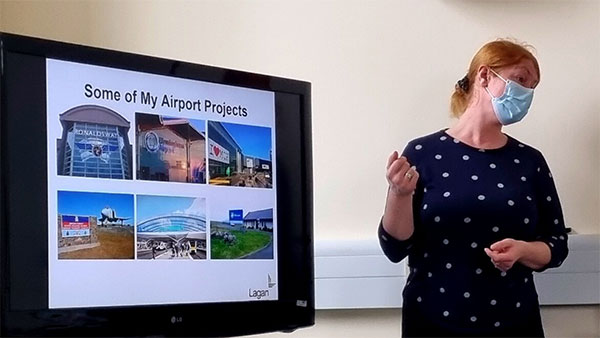 The following week students visited the site, located on the old RAF Machrihanish base. Once hailed the longest public airport runway in Scotland, the site had a high percentage of age cracking and a slurry seal that had reached the end of its design life.
Speaking with site Construction Manager – Tye Biddle, Work Supervisor – Alan McLoughlin and Surfacing Manager – Tommy Brady, students learnt all about the work being undertaken, the methods being used and the different types of machinery.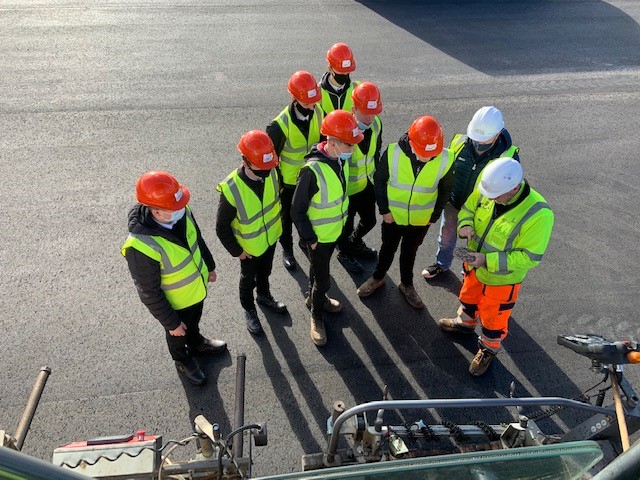 On completion of the project the refurbishment included; reducing the main runway width to 30m, 100mm asphalt overlay, geo-synthetic asphalt reinforcement, and airfield ground lighting to suit the new 30m runway width. It's said that the estimated £4 million investment will protect the long-term future of the airport and ensure it continues to provide a lifeline service to the local community.
John Lamont, Campbeltown Airport Manager said, "This is such a significant project for Campbeltown Airport and the surrounding community. It was great to be able to show students from Argyll College UHI the work that has gone into the new runway and what the project involves. It's not an everyday experience for people from the local community to see a whole new runway being laid."
Brandi Davey, Project Manager at Lagan Aviation adds, "It was a good opportunity to invite engineering students from the local college to see the works in progress. The students were really engaged in what we were doing and asked lots of relevant questions during the visit."
Argyll College UHI works in close partnership with each of it's 11 local secondary schools, and with businesses and organisations across the area to offer a wide range of opportunities to complement the school curriculum.
See which courses are available at your school