Elementary Food Hygiene
[

When

Starts Online. Ends 1 March .
o

Where

Online
£

Cost

£75
É

Contact

Helen Gillies
email: helen.gillies@uhi.ac.uk
tel: 0345 230 9969
à

Add to Calendar
Elementary Food Hygiene content
Elementary Food Hygiene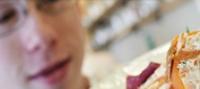 This course will enable you to have basic knowledge and understanding of the importance of food hygiene, associated food hazards, good hygiene practice and controls based upon an awareness of food safety management systems.
This course will aid in understanding and maintaining good practise in the handling, processing and preparation of safe food. It is appropriate for anybody wishing to have an awareness of food hygiene. It has also been designed to help the food and catering industries to provide training to a safe level for those who perform 'low risk' tasks such as clearing tables, maintaining stores, 'meals on wheels' and other similar duties.
It is also relevant to employees working in food factories but not in 'high risk' sections of the plant and people whose work requires them to enter food premises e.g. equipment maintenance engineers, off-site business owners or managers and delivery personnel.
This course is accredited through REHIS (The Royal Environmental Institute for Scotland) and a certificate will be awarded on completion.
Elementary Food Hygiene | Duration: 2 x 2.5hr Evening Class | Cost: £75

Interested in this course? Contact us