Students of the Year 2020
We are delighted to announce the winners, runners up and all nominated students in this years Student of the Year competition. We are immensely proud of each and every one of you. In all, we received 26 nominations from 8 centres and 15 different courses. All nominated students received a certificate, runners up received a trophy and winners will receive £100 in addition to their trophy.
This year more than ever, our judges have been delighted to read about the rich and diverse range of students who make up the Argyll College student community. The panel included members of the college's Board of Directors and Senior Management.
Liz Richardson, Head of Student Services said, ''It is gratifying to see our dedicated and determined students given recognition for their hard work. Many of them are overcoming personal challenges over and above the current issues posed by the Coronavirus pandemic, but to see them continue to work towards their goals is inspiring.''
Sadly, we are unable to present these prizes in person this year.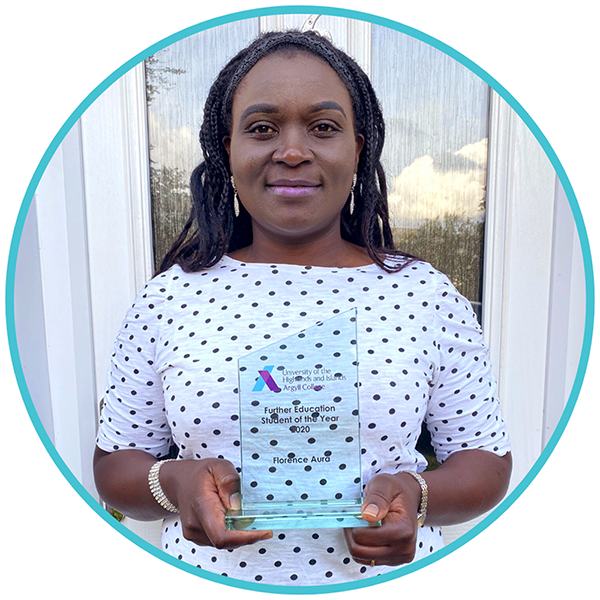 Further Education Student of the Year 2020 – Florence Aura
Florence has just completed the Scottish Widening Access Program (SWAP) Access to Nursing Course, and her tutor described her as ''the epitome of a SWAP Access to Nursing student.''
Florence is a committed, capable and highly motivated student who has carefully balanced college with work and family life. She took on extra responsibilities as a key worker caring for individuals in the community during Covid-19 lockdown. Florence has been accepted to Glasgow Caledonian University to study Adult Nursing this year and we wish her the best of luck with her future studies.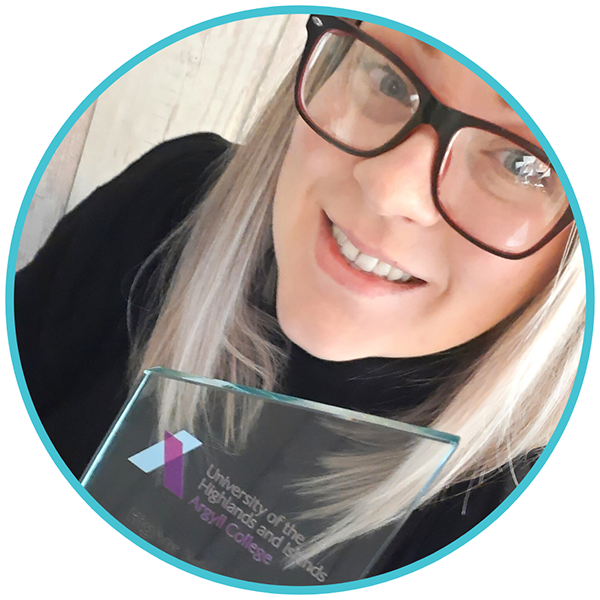 Higher Education Student of the Year 2020 – Shannon Gabor
Campbeltown student Shannon received multiple nominations for this award. She's just completed an SVQ in Social Service (Children and Young People) at SCQF level 7 and is now embarking upon a degree In Child and Youth Studies. As a mature student, Shannon has overcome her trepidation about returning to full time education. She is a volunteer for Police Scotland and is also undergoing training to become a member of The Children's Panel, on top of being a mum.
Further Education Student of the Year 2020 Runner Up – Debbie Gray
Debbie has also just completed the Scottish Widening Access Program (SWAP) Access to Nursing Course. Nominated by centre staff who said she is ''kind, considerate and concerned for everyone's well-being, and it wasn't just that she worked harder than I think I've ever seen anyone work.'' Debbie is raising a family and working on the frontline with the NHS during the current Covid-19 crisis.
Higher Education Student of the Year Runner Up 2020 – Calum Black
Being the sole carer of six children is an amazing and tiring job in itself yet Calum not only does this every day but also works as an Early Education Practitioner. This Campbeltown student has just completed his SVQ in Social Services (Children and Young People) SCQF level 7 qualification within a year. Calum shows every day that hard work and determination pays off and he is a fantastic role model to all around him.
Students Nominated for Further Education Student of the Year
| Name | Location | Course |
| --- | --- | --- |
| Caroline Rodger Ramsay | Campbeltown | NC Agriculture |
| Donna Marie Canavan | Dunoon | NC Social Science |
| Louise Stillwell | Helensburgh | SWAP Access to Nursing |
| Susan Crombie | Helensburgh | Access to HN Administration Business and Computing |
| Melony Boyd | Helensburgh | SWAP Access to Nursing |
| Kerry Milne | Oban | Higher English |
| Catherine Morrison | Oban | SWAP Access to Nursing |
Students Nominated for Higher Education Student of the Year
| Name | Location | Course |
| --- | --- | --- |
| Jennifer Rainey | Arran | BA Business |
| Lois Ashley | Arran | HNC Childhood Practice |
| David Brown | Dunoon | HNC Horticulture |
| Kirsty Law | Dunoon | HNC Social Science |
| Hannah Hutchison | Islay | Social Services (Children and Young People) |
| Ghita Craig | Lochgilphead | HND Contemporary Art Practice |
| Victoria Johnston | Lochgilphead | HNC Administration and IT |
| Rebecca Tivey | Oban | Professional Graduate Diploma in Education |
| Cameron Allen | Oban | HNC Computing |
| Charlotte McIntyre | Rothesay | Social Services (Children and Young People) |
| Clare Martin | | HNC Horticulture |
| Gwen Sherry | | HND Horticulture |
One of our nominees, HE Student of the Year runner up Calum Black, sent in a video about his nomination and the support he's thankful for receiving over the course of his studies, all the way through to finding his dream job: