RYA Scottish Instructor of the Year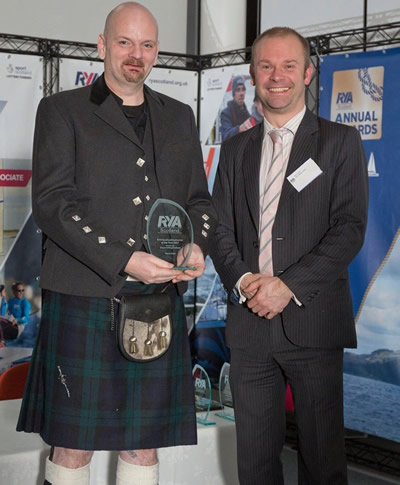 Argyll College UHI Tutor is named RYA Scottish Instructor of the Year
Oban man Derek Grier was last Saturday named RYA Instructor of the year at their Scottish Annual Awards ceremony in Largs. This accolade culminates a journey has been nothing short of extraordinary. Since taking on his RYA Powerboat instructor role it has taken him from being somewhat adrift after injury, to having a clear purpose in sharing his maritime knowledge gained after a career in the Coastguard.
Derek studied Marine Electronics at Glasgow Nautical College and worked for a number of years in the city before returning to his hometown of Oban, having had enough of city life. Derek put his many years of experience as an auxiliary coastguard rescue team member to good use, taking up a post in the Operations Room of HM Coastguard, and spent the next 12 years working as a controller in Oban, Shetland and Aberdeen. Not content with life on dry land, David trained as Fishing Vessel Safety Inspector and moved to the Scottish Fishery Protection Agency where he stayed for several years before a major injury forced retirement. Following a 3 year rehabilitation he took on the 'gentler' role of RYA power boat instructor.
As well as teaching Argyll College UHI's Maritime Skills Course, Derek also trains around 20-25 candidates a year to Powerboat Level II standard at Oban Sailing Club. Whilst extremely knowledgeable, Derek was initially anxious about teaching. He put in extra time to develop his teaching techniques and in the course of two years he has become an outstanding instructor. He has completely changed the safety culture at Oban Sailing Club being creative and pragmatic in equal measure. This has proven to be of huge value where well-trained safety boat drivers have demonstrated the skills learnt from Derek.
"We are delighted that Derek's years of hard work and dedication have been recognised in the award.'' says Don Mitchell, Head of Curriculum at Argyll College UHI. ''Derek's enthusiasm and dedication to making the RYA student experience as engaging as possible is evident in all he does. He brings a wealth of maritime knowledge to his training classes and his anecdotes and experiences help students grasp the reality of maritime situations."
''What can I say about the award?'' Says Derek, ''Obviously, I am very humbled and honoured to have received it but I'm a small cog in a big engine. All of my colleagues, at both the college and the sailing club, work as hard and deserve recognition as well.''
''We love to see the students start off being tentative and nervous and growing in confidence and knowledge. It's important to keep courses fun and interactive as well as having a sobering lessons as we go through'', he adds, ''For someone who has never driven a power boat to go from sheer frustration at the controls to looking like they have driven for years in just a short time is worth being cold, wet and wondering why we don't do this somewhere warm!! ''
If you've been inspired to get on the water why not apply now for the Maritime Skills course at www.argyllcollege.ac.uk or call 01631 559500.