Rothesay Horticulture Students support Future Grow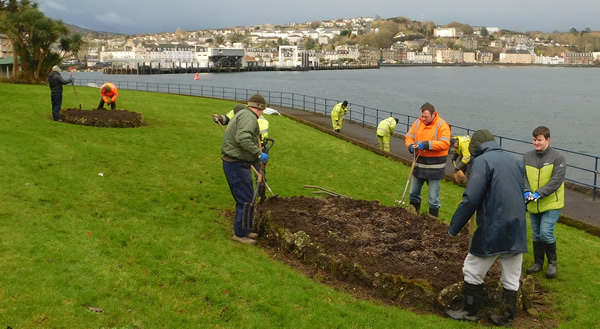 Argyll College NC Horticulture students
Argyll College NC Horticulture students in Rothesay have been working with Fyne Futures to help with the 'Future Growth' project, and on Friday our students worked together with Argyll & Bute Council to help prepare the Battery Place flower beds for planting.
The 'Future Growth' project was conceived back in October of 2017, when local Charity and SEO Fyne Futures sought funding from the Health and Wellbeing Fund (HWF).The project aims to give people the skills and knowledge so that they will be able to grow fruit, vegetables and herbs in the community as a group which can be eaten by anyone- for free. Fyne Futures were aware that Battery Place' beds had been neglected for some time and were due for removal, so Argyll and Bute council agreed to leave them to the project and join in their preparation.
In the week prior to our first day of planting there was a good deal of cross-agency cooperation taking place in preparation. Volunteers from Argyll College UHI and Argyll and Bute Council joined with the Bute Produce team in 'turning over' the beds and preparing the soil. It was great to see such a buzz of community activity taking place in support.
In the coming weeks we anticipate planting of other fruits and herbs, but with a little luck there will be less snow to thwart us. February 4th will see any volunteers interested preparing seeds at Bute Produce which will be eventually planted out in the beds.