Ready or Not Baby
SfW Childcare Students are Ready or Not in Rothesay!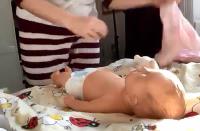 Students who are undertaking the Skills for Work Childcare National 4 course in Rothesay have been working towards the parenting unit of their course. The pupils spent a weekend experiencing what it might be like to look after a baby with their 'ready or not' babies!
The parenting unit includes learning practical skills which would be needed when caring for a child. These skills include changing nappies, making bottles and even checking for head lice! Tutor Laura Maxwell added in a new practical task that included looking after "ready or not babies" over a whole weekend.
"Ready or not babies" are battery operated dolls which are programmed to cry until comforted, and they are used to teach children and young people about the care a new born baby may need.
The students were required to look after their new children, which they named and dressed daily. To prove that they had carried out the care of the babies appropriately, the students submitted timestamped videos, pictures and written diaries. One student even took her new born doll to the midwives at the local hospital where the baby had their weight checked, another student created a time-lapse video to show the changing of a nappy!
The pupils had a varied experience – one student commented that her baby didn't cry at all over night, while one of the other said that her baby cried and needed comforted every two and a half hours! – but they all thoroughly enjoyed the experiment.