My story: Lizzie
I have a young family, a job and managed to study around all of this without too much stress.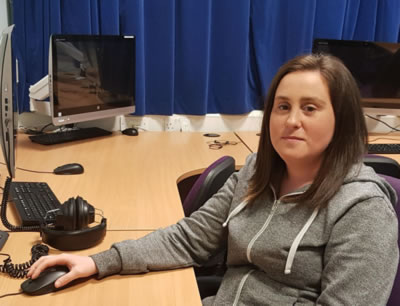 The college helped fund childcare alleviating that stress and there were long nights of study but it was worthwhile when you achieve. My full-time course timetable was as follows: Tuesday 2pm – 6pm, Wed 2pm – 6pm & Thur 9am – 4pm – this equated to 3 days a week plus self study.
Funding was through SAAS which included a student loan which was not income based and doesn't affect benefits or working income. You pay back this loan after you start earning £24k and only then a small amount at a time. I found the college staff helpful with individual situations and easy to approach.
My course was stressful but in a good way in relation to the bigger picture – i.e. working to deadlines and producing documents and achieving to the best of your ability. I tried HND before but it wasn't for me then, but now I feel I hadn't given video conference a chance. You can feel like you are constantly on camera and everyone is watching you but in reality, everyone is in the same boat and no-one is really watching you. After a few weeks, you don't notice you are on VC. Some classes are harder over VC than others i.e. team work but it is adaptable because of geography by using social media & email which makes you feel you are not as far apart as you actually are. All college staff go above and beyond to help you achieve your end goal.
I am now enrolled on the BA Business Management course.