My story: Ghita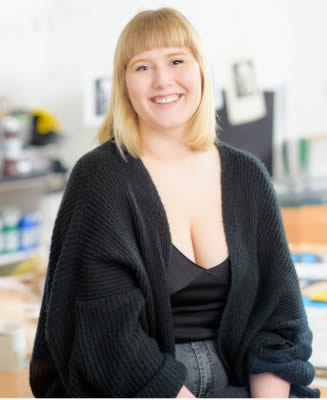 Ghita Craig believed the nearest she would get to pursuing her love of art was the pretty designs she created on the top of cappuccinos in the Oban coffee shop where she worked as a barista.

That was until she signed up for an Art and Design Couse at Lochgilphead College, part of the University of the Highlands and Islands. Now Ghita plans to pursue her true love, and with the support and knowledge gained from her College looks towards a career – possibly giving others the same opportunity has she has enjoyed at Lochgilphead by becoming a teacher.

"I did apply for a place in Glasgow six years ago when I was 18, but the thought of moving to a city really terrified me. Also I did think that financially it would be a struggle so I decided not to pursue it and as a result have spent the last five years as a supervisor and barista in Oban," explained Ghita.

The fact that, through the University of the Highlands and Islands, she has reignited her love of art, and in particular ceramics, and opened up all sorts of opportunities for the future.

"I'm studying Level 6 National Certificate in Art and Design. It's a full time course, three days a week and it fits into my working patterns extremely well. I've got a different tutor each day and spend a lot of one on one time with them which means I get a lot of help and feedback.

"It's a really comprehensive course and we do lots of things. Design based work, expressive work. We even do digital design on the computer, which is not something I'd ever done before."

However, it is in ceramics where Ghita has really found a true passion.

"It is so practical and tactile and I find working in ceramics very rewarding. I'd really like to carry it forward and do ceramics at university and six years on feel ready to perhaps apply to the Glasgow School of Art or Duncan of Jordanstone College of Art and Design in Dundee. I've stayed in Argyll nearly all my adult life so I'm needing a change of scenery," said Ghita by way of explanation.

But it is only through developing her love of art at Lochgilphead College, a 45 minute drive from her home, that she will have the confidence and the qualifications to take her education to the next level.

"Ultimately I would perhaps like to pursue a career in teaching. I get on so well with my tutors, and have formed really strong relationships with them that I'd like to be able to impact in similar fashion on people like myself in the future."

It is perhaps sad that those wonderful pieces of art produced for the tops of those cups of coffee are gone in a couple of gulps but those very same patterns may be appearing on some expensive pieces of ceramics in a few years time.