My story: Ciaran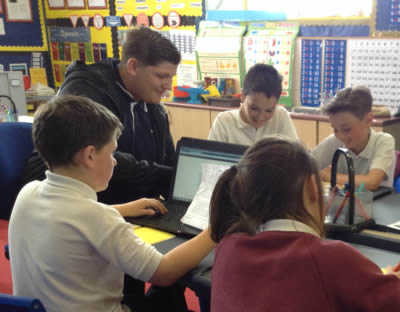 Ciaran Norris only took the Childcare National 4 course at school because he liked the idea of being out at college for five periods a week.
Now he's well on his way to realising his dream of becoming a primary school teacher.
"It was a real eye-opener for me. Up until then nothing had really stood out as something I'd like to pursue after school, but after only a few Childcare sessions I realised I'd like to take it further," he said.
"After that taster I went and did some voluntary work placements in local schools, and I loved it. I knew then I'd like to be a teacher."
Ciaran was amazed to discover that he would be able to progress through the SVQ level 2 and 3 courses, the BA (Hons) Child and Youth Studies and then the postgraduate Primary Teaching course, all with Argyll College and all while staying in his home town of Campbeltown.
"To be honest, I had no idea Argyll College offered so many options to people like me before I started looking into it. It's fantastic to be able to study right through to becoming a qualified primary teacher without having to move away to the city," he said.
He isn't phased at all by being the only male in his class.
"I knew when I started that I'd probably be the only guy taking the course in Campbeltown, but it didn't worry me and to be honest we seem to mix so well that I don't even notice," he said.
"In the placements I've had, the teaching staff and parents all seem to think it's really positive to have a male student. Scotland is crying out for more male teachers, and hopefully I'm going to be one of them".
Ciaran was recently chosen as one of four students to represent Argyll College at an even focussing on youth issues at the Scottish Parliament.
"That was a proud day for me," he said.
"I couldn't be more chuffed to be an Argyll College student. I'm loving the course, I'm loving my placements and my tutors could not be more helpful and supportive. I'm looking forward to repaying all their hard work by taking this all the way to qualified teacher status."