My story - Oisin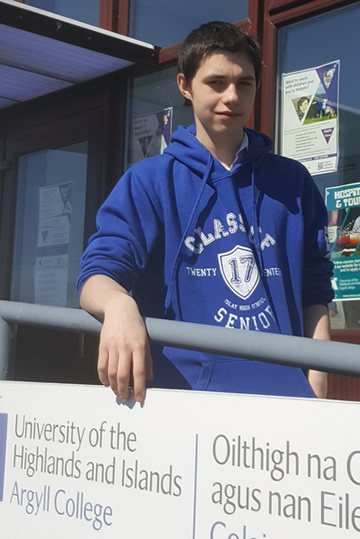 Islay resident Oisin Doherty says his experience with Argyll College UHI has made him realise his potential in terms of his further education and career prospects.
S6 pupil Oisin, who has Aspergers Syndrome, hasn't always found school easy but his interest in computing saw him enrol for the College's European Computer Driving License (ECDL) course, which runs one evening a week.
When he finished his last module, he had achieved at least 80% at every stage.
His success has given him the confidence to apply for a place at North West Regional College in Derry in Northern Ireland (where his Mum lives) to do a BTEC Level 1/2 course in Information and Creative Technologies.
He received an unconditional offer for a place at College on the same day he finished his last ECDL module. Oisin will take up his place there at the beginning of September.
"I've really enjoyed the course, because I'm into computing so have found it quite easy as well as interesting," Oisin said.
"It's a really good course if you want to get into any computer-related jobs or onto computer-related courses, because it shows people what you're already able to do.
"It was a different way of learning from school, and I liked that. I liked the fact there was a mock test where you could prepare, and the tutor would go through what went wrong so you could improve on the official test, which is taken after every module.
"I also liked the fact I could go at my own pace – which turned out to be one of the fastest in the class. Our class had mixed abilities and I found I was able to help other students which I really enjoyed.
"The online notes were good because they were presented well and it was a lot less stressful for me to go through them in my own time than in having to do it in a large group of people."
Oisin said he found the help and support of tutor Lorraine Ferguson invaluable, and added that the course had given him much more than simply an extra qualification.
"It has proven to me that I've got the potential to do really well in whatever I choose to do in the future. It shows me I can achieve at this level," he said.
"I have Aspergers Syndrome and I would encourage people on the autistic spectrum to try something like this, as just because you have autism or Aspergers that shouldn't stop you. Don't let it put you at a disadvantage – use it to your advantage because people on the autistic spectrum often find they have an expertise in a particular subject, and computing was mine.
"For me, the College course has been great. It allowed me to stay at home and get an extra qualification, which I'm sure played a part in getting into North West Regional College. It's given me a massive confidence boost, and I'm really looking forward to the future."