Life's on hold – your future doesn't have to be!
Learning after lockdown might feel a little bit different than it did before, but Argyll College UHI has been pioneering the use of digital and online technologies since 1999 to reach remote and rural communities, so we know how to make it work for you.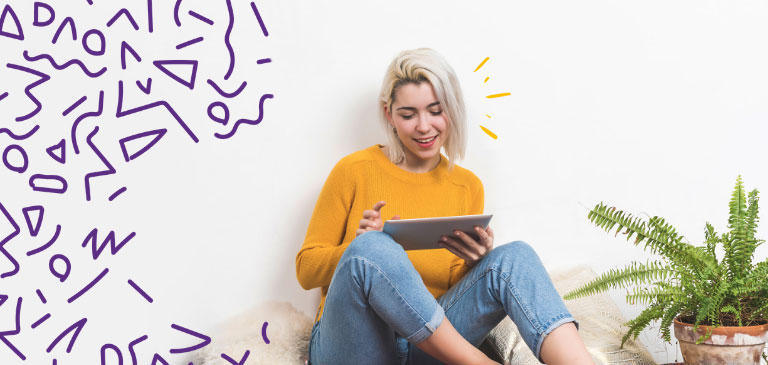 We draw on award-winning expertise to deliver courses using a blended approach to teaching. This combines video conferencing, which we've all become so used to with the weekly family Zoom call, with inventive online technologies, real time support from tutors and support staff, and some face-to-face teaching for learners across Argyll and Bute and beyond.
3rd year student Charis says, ''during lockdown we carried on with our Video Conference classes as normal, and with assignments available on the secure online portal, we didn't notice too much difference. I'm going to be continuing with the BA Business and Management in September and am looking forward to working from home once the kids are back in school.''
When courses restart on 7th September, life on campus will undoubtedly be slightly different. Our priority is to provide a safe learning environment for all staff and students. Any return to face to face learning will be safely planned in line with the current and developing Scottish Government public health measures, including social distancing.
Increasingly it will be normal for students and staff to connect with each other from home, travelling into our local college centres for practical activities, assessments and to access individual support.
This doesn't mean that activity will be any less, and in fact this 'new normal' will make it easier than ever for you to fit your studies around other commitments using our blended learning approach.
Signing up to study with Argyll College could be a great alternative to a gap year abroad. It's the perfect option if you are thinking about a career change or if you want to gain some essential study skills and experience before thinking about a move to the big city.
Our virtual online open day on Wednesday 24th June is the ideal way to find out more about how we do things; chat online or on the phone with friendly and knowledgeable staff about what your options are; or just browse our range of subject areas and listen to what our tutors have to say.
Because we combine different teaching technologies our students can study from anywhere: a remote Scottish island, the heart of Glasgow or the Scottish Borders, and with a full range of higher and further education courses, we have options which are ideal for school leavers or adult returners. Don't let your IT skills, equipment or slow broadband stop you – speak to us about anything you think might stand in your way, we may be able to help.
Oban Centre Manager Theresa Bain says, ''Our buildings are closed, but applications are open. Staff are working at home now, and throughout the summer, so there's always someone you can contact and we want to hear from you.''
2020 is the time to stay local. Don't put your future on hold – find it with us.