Islay student picks up top award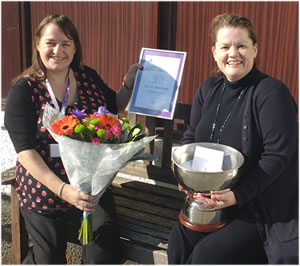 Bowmore resident Sarah Mottram has been named Argyll College Further Education Student of the Year for 2016. Sarah was presented with a beautiful cup and certificate at a local celebration in Bowmore this Thursday 6th October by Mairi MacCuaig, Centre Manager of Argyll College Islay.
Sarah studied NC Business at the Argyll College Islay Centre in Bowmore and was nominated for the award by Dunoon based tutor Liz McFarlane who said, 'Sarah is a joy to tutor and she has met the many challenges of remote learning with determination, positivity and enthusiasm. I have been inspired by her tenacity, cheerfulness and consistent hard work throughout the year.'
Sarah is a full time carer and has a range of family responsibilities. The judges felt that her ability to juggle these demands with full-time study, combined with her impeccable attendance and academic records make her a very worthy recipient of this accolade.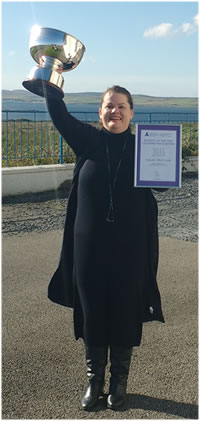 Sarah said '' I initially approached Mairi, manager of the Islay UHI with regards to a computer course, and she suggested NC in business studies which I accepted. I was glad to see other Islay colleagues but during time I found myself the only student. I admit I did question whether I should proceed and I am so glad I did. There was a possibility of feeling isolated with regards to the teaching method. This was overcome with help from the centre staff Mairi, Maria and Gordon, who were on hand to help. I cannot stress enough the helpful, friendly and supportive environment that the staff on Islay offered. I also would like to mention Lorraine who taught Information Technology. Never have I been taught by such a patient, positive and professional teacher. My tutors also were fantastic, specifically Liz from Dunoon and Dawn & Fiona from Campbeltown. On a final note my experience with the UHI came at a time in my life when I needed positivity, friendship and support.
Fraser Durie, Argyll College Principal commented, 'Sarah is a credit to Argyll College UHI and to Islay. She embodies all that is best about our coastal communities: an unfailing commitment to care for others coupled with a determination to succeed in all endeavours. We wish Sarah well in whatever she chooses to do next.'