Hard at work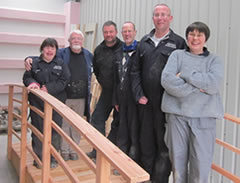 Our Award Scheme Development and Accreditation Network (ASDAN www.asdan.org.uk ) class started back in 2012 in union with the Lochgilphead Resource Centre to offer a practical course for adults with additional support needs.
They started making bird boxes and it quickly became apparent that they were capable of some excellent work. We have lots of wildlife visit our CERC (Centre for Engineering Renewables and Construction) centre, including 3 resident squirrels, so it was decided to create a nice observation area.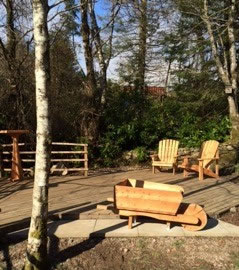 That's how our decked area reached by a mono block path and a bridge was born. This has now been adorned with a bird table, A wheelbarrow planter and 2 chairs (same design as those that were on the deck of the Titanic).
The next stage is to fill the pond!