Dunoon's S3 Skills for Work Practical Experiences class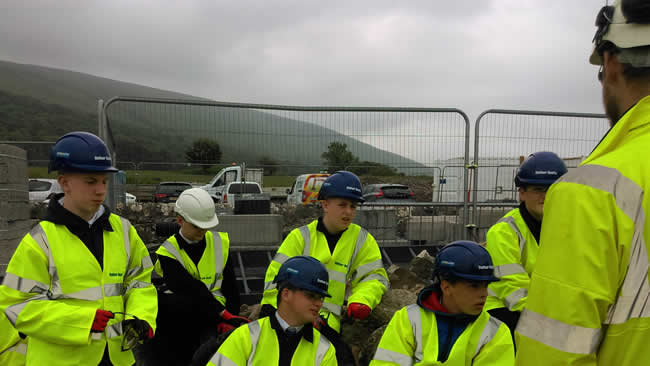 Skills for Work pupils with Balfour Beatty at Colintrive
Dunoon's S3 Skills for Work Practical Experiences class – a course which comprises a mix of construction and engineering skills, went to the Colintraive slipway on 4th June where extensive slipway works are underway. The students and their tutor, Lesley Lyon, met with the project manager and site manager of Balfour Beatty.
They were treated to an excellent day out, beginning in the conference room where they were given a presentation of the slipway works. The firm is laying two new slipways for Calmac's Colintraive to Rhubodach (Bute) crossing.
Lesley and the pupils were shown in great detail all aspects of the work that is taking place, including how steel sheeting was used to block off the area where the slipway was to be built and once sealed the water was then pumped out so the works could begin. The pupils learned that steel bars were placed into the sea bed and later concrete slabs would be pushed along the steel framework into place using hydraulic double acting cylinders. Once these were in place waterproof concrete would then be poured in to fill underneath the slipway which then protects the steel bars from the water to stop erosion. Once the framework is together water is allowed back into the area and a diver then goes underwater to check the framework and do any necessary welding. The pupils learned just now much complex work is involved in making these slipways.
The students got up close and personal with the work as they were taken out to see one of the divers out doing his work. They were also able to see exactly what the diver was doing under the water as he has a camera and so the students were able to see for themselves.
Tutor, Lesley, said, 'It was fantastic to see the project up close and in person! We were even taken onto the Calmac ferry which is using a temporary slipway while the work is being completed on the main slipway. After a very short crossing - honestly about 3 minutes on and off! - we arrived at the Rothesay slipway and saw the progress there.'
The project itself cost £5.5 million! The big question on everyone's mind was why not build a bridge? The project manager had two answers for us. Building a bridge would cost upwards from £25 million and would require constant maintenance. The slipways that are being built will last at least 40 years with little maintenance.
Lesley and the pupils all agreed that this visit was a great opportunity for the students to see a large scale project from the design process to the final product. The students got to see many different aspects of engineering and construction on the day and it has inspired the students to look at these careers more.
Lesley would like to give special thanks to Balfour Beatty and Caledonian MacBrayne Maritime Assets for inviting them all to their site and preparing a great day for everyone.