Construction Students Restore Dunoon Benches
Construction Students Restore Dunoon Benches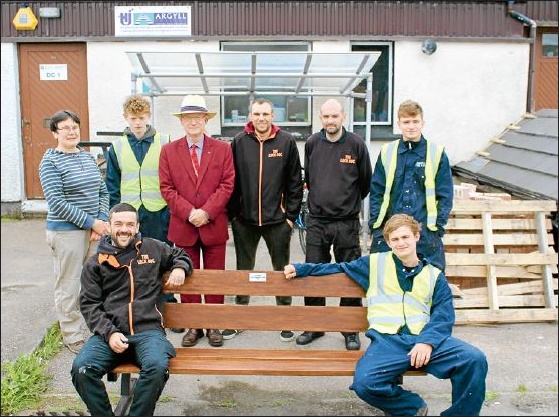 A group of students from the NPA Construction course running in Argyll College, Dunoon, has restored a number of the town's seaside benches.
The benches, which are in various locations around the town centre and which are owned by Dunoon Community Council, were in quite a poor condition and so each bench has had the solid oak back removed, sanded and finished, while the metal framing was cleaned and repainted with the support of local businesses. Dae-it-Yersel and Cowal Building and Plumbing Supplies generously donated the materials used to refurbish the benches, while The Lock Doc provided new plaques to be placed on the benches. Argyll College UHI is grateful to the businesses involved, as well as to Developing the Young Workforce Argyll for bringing the parties together to work on the project.
Dunoon Community Council's George Darroch explained that this is just the start of an ongoing process to help restore and refurbish a number of the benches, some of which will be looked after by Argyll Boy Scouts.
Construction tutor Neil Davie said, 'The benches were really in quite a bad state, so the students had to strip them right back in order to get them ready for treating and painting. Overall, it's been a really rewarding process and we're delighted to be able to assist in bringing these benches back into use for our local community and tourists'.
Argyll College UHI in Dunoon offers a full-time NPA Construction at our construction unit in Sandbank Industrial Estate which provides an excellent introduction to the trades, covering skills including joinery, plastering, roof tiling and bricklaying, amongst other key topics. In addition, successful completion of the NPA Construction gives to the CSCS test, a necessary qualification to enable participants to work on a site.
Applications are now open and places are limited, so please apply now via https://www.argyll.uhi.ac.uk/courses/npa-construction-ft/#tab-summary to avoid disappointment!