Car Share Collaboration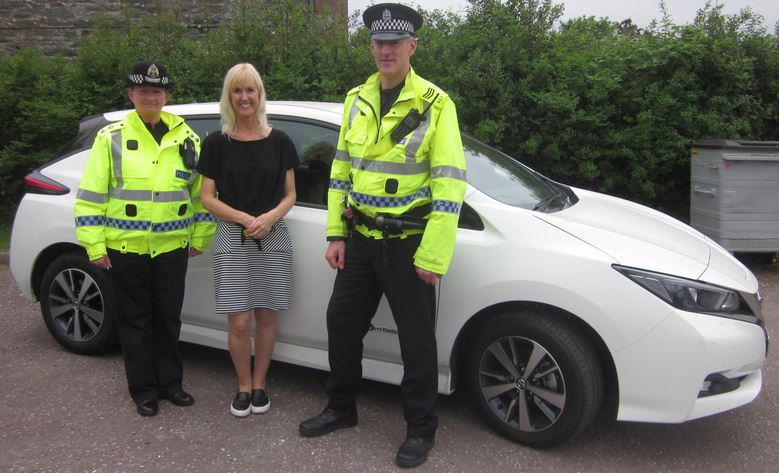 Public Sector Bright Sparks lead the way with Car Share Collaboration.
Argyll College UHI has just added 2 new Nissan Leaf Electric Vehicles to its fleet of eight college cars, as part of a long term commitment to reducing the organisation's environmental impact, and in an innovative collaboration project, one of the vehicles will be shared with Police Scotland for the first time. Argyll & Bute Community Partnership suggested the collaborative approach when both Argyll College UHI and Police Scotland identified a need for a vehicle in Mid-Argyll.
The lease cost of the vehicles is 100% funded by Transport Scotland's Switched on Fleets funding and estimates suggest an annual fuel saving in excess of £1000 per car. Cost savings are not the only benefit though, as the vehicles have no tailpipe emissions of CO2, or detrimental air pollutants such as particulate matter and NOx. The British-built New Nissan LEAF has won Best Electric Car at the WhatCar? 2018 Awards.
Inspector Julie McLeish of Lochgilphead Police Station said: "We are delighted to be working in conjunction with Argyll College UHI to not only reduce the carbon footprint of our organisation, but in an innovative and collaborative way, to maximise the effectiveness of Transport Scotland's grant funding."
One of the new environmentally friendly 'Leafs' will based Lochgilphead and used by staff from both organisations. With a range of over 150 miles, and a growing network of charging stations, the cars are a great way of traveling around Argyll. Police Scotland will utilise the shared vehicle for a variety of non-emergency functions and college staff will use the vehicle to travel between the Argyll College UHI's 10 learning centres.
College Finance Director, Ailsa Close said 'The Energy Savings Trust provided advice and assistance which enabled us to access funding through Transport Scotland's 'Switched on Fleets' initiative and we estimate that we'll save approximately £1600 per year for each vehicle. This allows us to ensure our financial focus remains on the provision of student services and facilities.'
Elaine Clark, Argyll College UHI Head of Property said 'We have a long standing ethos of promoting green technologies and we generate a signifant proportion of our annual electricity needs ourselves with solar panels in our Oban, Lochgilphead and Dunoon centres. With the growing network of charge points throughout Argyll, investing in electric vehicles makes sense for us. We are lucky to live and work in one of the most stunning areas of Scotland and the use of these vehicles will reduce emissions and help to maintain our beautiful natural environment which is one of the real attractions of studying in Argyll.'