Argyll College Wins Top Environmental Award
Argyll College UHI has received the Scottish Environment Protection Agency Award for Excellence in Environmental Sustainability.
This award was presented at the SCDI Highlands & Islands Annual Dinner and Business Excellence Awards at the Drumossie Hotel last Friday. A sell-out audience of 350 guests attended the award ceremony which was hosted by Gyles Brandreth.
The Award is presented to the Highlands & Islands business or organisation, which best demonstrates its commitment to improving its environmental performance and resource efficiency, in ways which go beyond regulatory compliance and also increase profits and/or efficiency.
Argyll College UHI, one of the partners in the University of the Highlands and Islands, provides Further and Higher Education from nine centres spread throughout the vast geographical area of Argyll & Arran. The average mileage of the entire college staff runs to approximately 150,000 miles per annum as people travel between centres to deliver training and to meet with students and business partners.
In 2015/16, Argyll College leased 3 fully electric vehicles. Whilst there was initial doubt and in some cases opposition from staff to the use of such vehicles given the terrain involved and the perceived lack of charging points, the cars travelled some 30,000 miles in their first year.
Argyll College UHI Finance Director, Ailsa Close said, ''We are delighted to have our green credential recognised in this way. We are lucky enough to live and work in such a wonderful part of Scotland and all of our staff have a commitment to protecting our beautiful environment. Building on the success of our first three vehicles, we now operate a fleet of six Nissan Leafs, four Renault Zoes and a hybrid Mitsubishi. We have recently been successful in securing funding to install charge points Oban, Dunoon, Campbeltown and Helensburgh. These chargers will be available to the general public as well as for the College, which will ease the burden on the Council chargers in those areas where, other than in Oban, there is currently only one charging point per town. Given that the main nervousness with regard to the use of EVs is the lack of infrastructure, we see the installation of these chargers as being quite a big part of improving that infrastructure in Argyll.''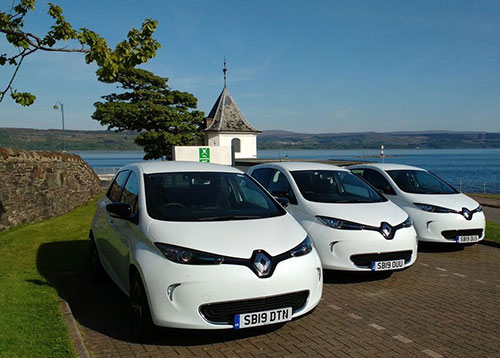 With the current EV fleet, it's estimated that the College's annual petrol/diesel mileage is now just 10,000 miles, down from 150,000 miles, equating to an annual carbon emissions reduction of a staggering 20 tonnes. This adds up to a saving of around £42,000 for the College and the public purse in 2019/20 alone.
The college is currently operating a vehicle sharing agreement with Police Scotland in Lochgilphead, and has plans to extend this to the Fire Service in Argyll and possibly to other relevant charities in the area.