Amber's story
When Amber Thomson's twin sister, Lisa, asked if she like to pop into Argyll College in Bowmore, Islay, to check on what courses were available she had no idea that it would result in a career opportunity for herself which could take her all over the world.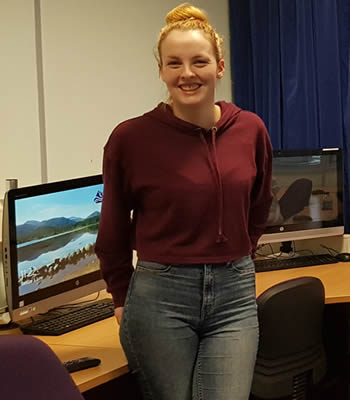 "It was my twin sister who dragged me into the college because she was looking for something and I happened to see the information about the HNC in Administration and IT and thought it looked interesting," explained Amber, who was working in the kitchen of Islay Airport's cafe at the time.
"I really felt that I wanted to get out of the kitchen because I'd been doing that since I'd left school but had no real idea what sort of career I wanted."
It was only when she started the course that she began to think about the opportunities that it would bring and it was through a prompt from college centre manager, Mairi MacCuaig, that was to lead to her exciting new job.
"The new Machrie Hotel in the island was under construction and Mairi said that they would be looking for people to work there. It was she who planted the seed, gave me the kick up the backside if you want. They hadn't advertised at that time but Mairi told me to send them my CV in any case."
Amber emailed her CV to Campbell Gray Hotels, the prestigious hotel management company which were to be running the Machrie, explaining who she was and that she would be interested in a job.
"They emailed back and told me that my CV looked good and that they would be in touch. A couple of months later they were. I met with their Head of Personnel and had another telephone interview with the Head of Department and was offered a job as a receptionist," said a delighted Amber.
Campbell Gray Hotels are a prestigious hotel company, running five star hotels all over the world, with a reputation of offering ambitious staff the opportunity of working at other hotels within their group. "Travel would be lovely but I want to walk before I run and get used to their five star working standards. At the moment it's daunting but perhaps I'd like to travel at some point."
But if Amber hadn't noticed that course information she may still have been watching people flying off from Islay rather than doing so herself in the future.
"If I hadn't attended the course I don't think that I would have had the courage to approach Campbell Gray Hotels. Doing the course has given me a lot of confidence, even just to send out random emails like the one I did. I definitely would not have gone to a college on the mainland. I did apply for some courses but I know I would have had cold feet had they called me for interview," said Amber, who has been told by Campbell Gray Hotels that she may be able to continue her second year HND next year as part of her career development.