Emergency First Aid at Work
[

When

Starts 9.30am to 4:30pm.
o

Where

Helensburgh Learning Centre
8

Remote access

Not available
£

Cost

£80:00
É

Contact

Helen Gillies
email: Helen.Gillies@uhi.ac.uk
tel: 01631559675
à

Add to Calendar
Emergency First Aid at Work content
Emergency First Aid at Work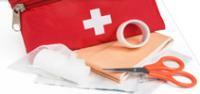 This nationally recognised qualification includes the most recent Health & Safety Executive (HSE) changes made on 1 January 2017.
It is suitable for candidates in low risk workplaces to become accredited Emergency First Aiders in the Workplace.
The new Emergency First Aid at Work course complies fully with key syllabus changes and so includes the use of an Automatic External Defibrillator (AED), to ensure that candidates are trained to current Resuscitation Council (UK) First Aid Standards.
Emergency First Aid at Work | Duration:1 day | Cost: £80:00

Interested in this course? Contact us